H Helical Gearbox &B Bevel-helical Gearbox Size 19¡«26 NEW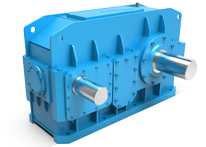 ¡ô Unique design concept for heavy duty condition.
¡ô High modular design, biomimetic surface with owned intellectual property right.
¡ô Gear boxes use steel plate welded housing with good rigidity and can run steadily.
¡ô Transmission shaft is designed as poly line. Compact structure meets the higher torque transmit capacity.
¡ô Usual mounting mode and rich optional accessories.
¡ô Transmission stage:2 stage, 3 stage or 4 stage.
¡ô Mounting mode: foot mounted.
¡ô Output shaft: solid shaft.

¡ô Harbor and shipping
¡ô Coal mining
¡ô Cement and construction
¡ô Metallurgy
¡ô Chemical industry and environmental protection

¡ñ Providing correct gearbox and combined gearbox to meet your application needs.
¡ñ Lowering maintenance cost and lifting operation efficiency.
¡ñ Improving production capacity and boosting economic profitability.